We're rooting for Betty Guy, one half of Humble Pie Fawcett and Guy in Askrigg, who is a finalist in this year's National Best New Business Awards, in the Young Entrepreneur of the Year category. The awards ceremony takes place this Friday in London and Betty is one of ten finalists in her category. Here she tells us how her journey into business began.
What's the story behind your business? How did you get started?
The story behind Humble Pie spans across approximately 19 years – pretty much the duration of my life to date! My mum, Elizabeth Fawcett, in July 1999, with myself 10 months old, and my two older sisters Susie ages two and Emily ages seven, and my father, Charlie Guy, decided to buy a property in the heart of a historical village called Askrigg, in Upper Wensleydale. Humble Pie soon became a beautiful delicatessen that was quickly known by many people across the dale for its exquisite quality.
June 2005 soon came around and everybody gathered to wave Humble Pie goodbye. Mum, Emily and Susie and I, all went off to find new adventures; Mum doing what she does best and finding new business ideas, launching "Betty Guys Little Pies", and us girls continuing with school. I've always known that school isn't my thing; learning in a classroom never really worked with me and I much preferred practical work. The day I was finally old enough to get my very own job couldn't come soon enough. So you may have gathered that university wasn't even going to be considered in my mind – it was a definite no!
Anyway, I sat my GCSEs in 2014, and left Wensleydale School that summer. That's when I decided that I was going to get an apprenticeship, which I couldn't recommend enough to anybody considering what educational route to take after leaving school. It was the best thing for me and I couldn't wait to get started at Milners of Leyburn, where I completed a one-year course in Business Administration, and worked for almost three years. I learned so much, which I do believe definitely helped me to be where I am today – back in Humble Pie, now in partnership with my lovely mother!
It's just over a year since Humble Pie Fawcett & Guy reopened and we're truly loving it. Although the year has been incredibly hard, busy, a massive learning curve and lots of tears (mostly happy ones), Mum and I couldn't be happier with the incredible support we have received from locals and visitors, and I'd just like to say thank you so much once again.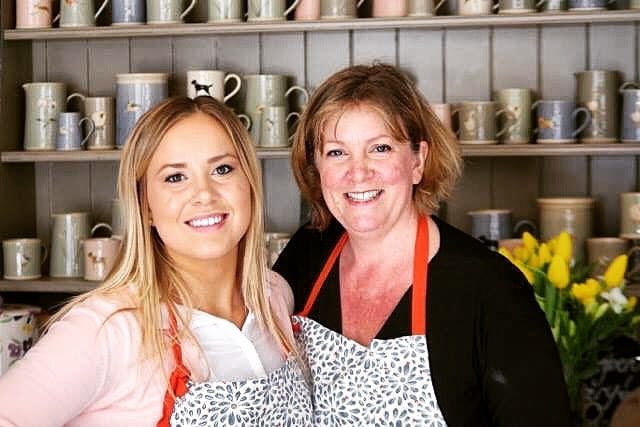 How did you get started?
Humble Pie got started in April 2017 after an unmissable opportunity arose and was quickly accepted by mum and myself. I had left Milners in the September and temped around a few different jobs, waiting for the right job to come along!
What's a typical day like for you?
My typical day is what I can only describe as manic on a daily basis, but amazing! It's full of baking, cooking, lots of talking and cleaning, what I do best really!
What's the toughest part of running your own business?
The part I find hardest is the bookkeeping, it's not my strongest point but I give it a good go.
And the best part?
The best part is the amazing, and very overwhelming lovely comments we get from our customers on a daily basis. They are just lovely!
What are your top three business goals for the future?
I would love to be the proud winner of the Young Entrepreneur of the Year at the National Best New Business Awards this year, but having looked at the other finalist, they have all worked so hard in their businesses to that deserve the award too; secondly, to run my shop for many, many years to come; thirdly, to get better at bookkeeping!!
What's your top marketing or social media tip?
Marketing and media have been a part of my working life for a while now, and I remember being so nervous about the first ever Facebook post and blog for Milners, I was thinking half the world was going to read it and I was scared to post it. Once the post went out, I thought, "what was all the fuss about?" Now I feel like it just comes naturally. I try to post a couple of times a week or more, but honestly, I either forget or just don't have time. Sometimes I don't think that's a bad thing, you don't want people to think, "ohhh not another post from Humble Pie". I would suggest trying and keeping it short and sweet, and not too lengthy. I personally don't like reading, so a long post would really put me off.
How can people find out more about what you do?
We have recently launched our brand new website with a history page, and I'm regularly posting on our social media accounts. Everyone is welcome to come and chat to mum, our lovely chatty staff and me – we tell our story at least 20 times a day!!