Following an injury Hannah Russell dropped out of college at 17, but little did she know that her new miniature Shetland friend, Little Alf, would change her life quite so dramatically! After seeing her blog following take off, Hannah is about to celebrate the publication of her seventh novel…
What's the story behind your business? How did you get started?
To be honest it was a bit of an accident! I was on the BTEC Sport course at college at 17, in the hopes of becoming an outdoor sports instructor, but I started to get really bad pain in my lower back. After a bit of a tumble I fractured four vertebrae in my back and cracked two discs, which was rather painful. After that I left college, and that's when Little Alf, my miniature Shetland, came to live with me. I started blogging about him and he got a large following online – the power of social media is crazy! From there I began writing about him, and in 2014 my first children's book was published. To start with it was just a hobby really, but then after the amazing response to the first book I started writing the next one and then the next one… and a few years later, here we are with six (soon to be seven!) books published, one shop located in Leyburn market town, and a network of stockists! I really love business: my parents have their own companies so I think from a young age I've watched how they have grown. It's very inspiring.
What's a typical day like for you?
Every day is different, I don't have a typical day! Some days I've visiting farm shops to stock up their books, some days I'm sitting writing in my office at home with the animals, and others I'm working in my shop. I can also be found at schools and universities giving talks about life as an author and how my journey began. I actually have three companies in total, which is hard work but very rewarding and fun. It's nice to be doing something different every day.
What's the toughest part of your job?
Negative comments – everyone who has a business receives them but I've learnt that they only make you stronger and make you push harder to achieve things. In fact, they can be a really good motivator.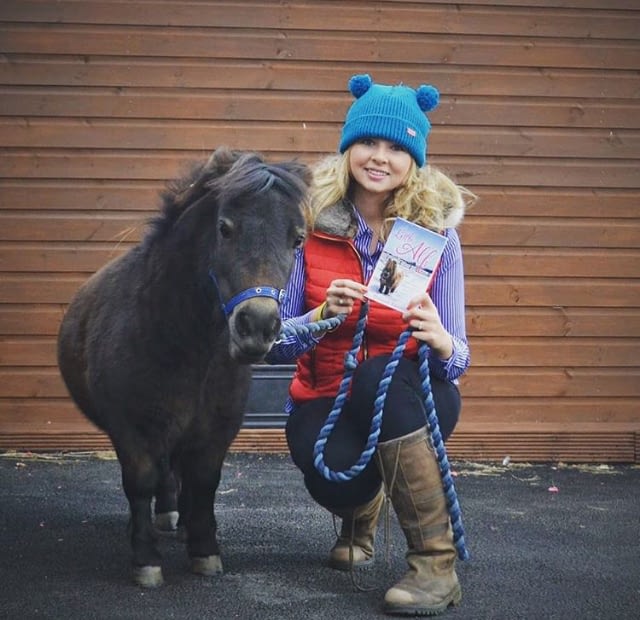 And the best part?
When something comes together – I love it when I finish a book and then see it back in my office printed; I get a real sense of achievement. I always love hearing people's thoughts on the books! A satisfied reader just makes me so happy. I also love going to find my books in book stores; I always take a picture and then add it to my wall at home.
What are your top three business goals for the next 12 months?
I would have said to become more international, but I'm actually being published in Germany this month so I've very excited about that! I definitely plan to tackle a few more countries and see what sort of response I get.
I am hoping to open up another shop, so I will be getting that in motion during the next few months. I am also currently looking at making my shop and Little Alf autism-friendly with the National Autistic Society – I feel that would be a real achievement. 
What's your top marketing or social media tip?
Be yourself and share your story. People like unedited pictures and videos because they can relate to them. Social media is really changing, and I think people buy more in to your story than your product so share your story and connect with the world. I've just started working with a few videographers to produce business videos; the social media industry says that in 12 months it will only be video… we will have to see what happens!
How can people find out more about what you do?
Visit my website and social media accounts, or come in for a chat – I'm usually in my shop in Leyburn market town.