Helen McQue set-up McQue Acupuncture in 2016, after her daughters leaving home for university inspired her to return to university herself and start on a new career path. Read on to find out more about her new career as an acupuncturist and her business plans for the future.
What's the story behind your business? How did you get started?
When I watched my daughters go off to university, it effectively left me with empty nest syndrome and had me thinking about what I could do to fill up the extra time on my hands.
Having done fifteen years in the catering industry I no longer had a feeling of fulfilment from it or the adrenaline rush that it once gave me. It simply paid the bills and so I dared to believe that I could focus my extra time on a career change. However, transforming that thought process into reality was a little daunting. At the age of 44, would I be too old for a career change? After such a long time away from studying, would I have the ability to start again? Could I afford to do so whilst supporting my girls' education and paying the bills? My confidence was also pretty low and I was unsure as to whether or not I could get back out there and start again.
It was a chance meeting with my friend's acupuncturist that gave me some much-needed information on what I needed to do, so that my ideas of learning all about Chinese medicine could become a possibility.
The first step was attending an open day at the Northern College of Acupuncture. The college had such a calming energy, and it felt as if it gave you a welcoming hug as you came through the big red door. That feeling had me hooked, leading to three years of intense studying with a few tears and mutterings of self-doubt along the way. I graduated with a BSc (Hons) to practise Traditional Chinese Medicine.
Licensed with the British Acupuncture Council and several business cheques later, with my business cards at the ready, I opened the doors to McQue Acupuncture in the lovely market town of Richmond in the autumn of 2016.
What's a typical day like for you?
No two days are the same, especially not now! My day begins with getting the clinic ready for the day ahead – this involves making sure all areas are cleaned and sterilised.
A first appointment at my clinic takes between 45 minutes to an hour for traditional acupuncture. I will ask the patient to describe how the symptom or symptoms of their complaint feel to them, how long it's been going on for, how they are sleeping, how they feel in themselves and if they have been prescribed medication. A full medical history is taken, along with consent to proceed with treatment.
Some questions will be – and often are – met with wonder as to the relevance of them, however all questions help me build a more detailed picture of what is happening, including taking the patient's pulse and observing the tongue (which is always met with curiosity!). Once I have all the details I can then make a diagnosis and put together a treatment plan that is individual to the patient.
If I proceed with acupuncture, I use tiny, single-use sterilised needles that are placed at specific points on the body and not always in the area that is causing pain. This is often met with a question, as in: "Why are you putting a needle in my toe when I have a headache?".
No day is the same, and I meet with some wonderful people who come to my clinic for a myriad of health issues. My usual recommendation is to begin with a course of weekly treatments.
What's the toughest part of your job?
The isolation of working alone can creep in if I'm not careful. When you first start out there are so many aspects of running a business that are overwhelming that they can leave you wondering how to cope with it all. However, with the right planning and the odd mistake along the way (you definitely learn from them), it starts to get less daunting and a whole lot easier.
It can be tough juggling everything from time to time, and learning to prioritise is key to keeping it all together.
And the best part?
Seeing people achieve their health goals. I love my job and all the diversity it brings; one day I can be treating tight and aching shoulders, arthritic knees and neurological disorders, and the next it's women's health issues, fertility and facial rejuvenation treatments.
Seeing genuine relief on a patient's face when they no longer have pain or they have the result they wanted will always be a driving force for me.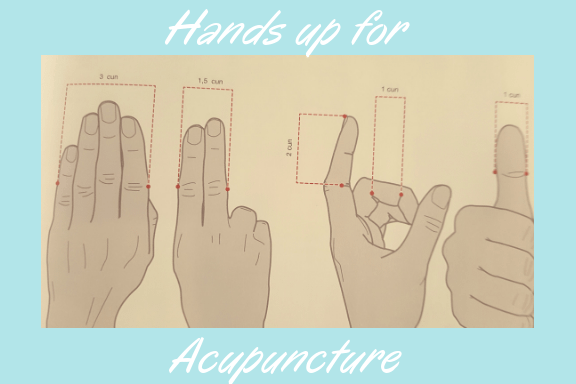 What are your top three business goals for the future?

For the clinic to become more established in the community and surrounding areas.

To launch my website.

To have a clinic that is open five days a week.
What's your top marketing or social media tip?
I would say that if you're going to use social media platforms then choose one that plays to your strengths. For instance, if you are more of a visual person like me then Instagram is a brilliant platform to use – you can take a great photo and attach a short story. If you're wanting to grow your viewers then use hashtags that are relevant to the picture and keep it tidy with a chosen colour theme throughout. For example, I recently used this picture [above] on my Instagram account; I used hashtags with the word acupuncture, and I always add my location. Have fun with it all and let your audience get a sense of you while still promoting what you do!
I have a business page on Facebook too, which is great for showing my location and opening times. I always ask my patients to like my page or, if they wouldn't mind, to write a short review because it helps to promote my business a little more – so don't be afraid to ask.
While the web can be great to use as an extra tool, don't stress about it too much. Word of mouth and getting out into your community are key to getting your business recognised.
How can people find out more about what you do?
You can get in touch via telephone 07825212463, email me on helen@mcque.co.uk, or pop along to the clinic – I'm open Monday to Wednesday, 9:30am – 7:00pm.