After 20 years as a headteacher, Jackie Warburton re-trained as a registrar. Looking to offer more flexibility and personality in her approach towards celebrations, Jackie became self-employed as an Independent Celebrant this year and now offers totally bespoke ceremonies in Yorkshire, the North East and Cumbria.
What's the story behind your business? How did you get started? 
After 20 'full-on' but rewarding years as a Primary Headteacher, living and working mostly in the Dales, in 2015 I took the plunge and changed career, seeking more work-life balance with flexible, part-time hours. I wanted a role where I could continue to engage with people whilst having the opportunity to utilise my skills in public speaking, writing and organisation. I trained as a registrar and performed hundreds of Weddings, Renewal of Vows, Commitment Ceremonies and Naming Ceremonies in licensed hotel venues around Darlington. It was a fabulous job but, over time, I became frustrated with the restrictions on the content, format and location of these ceremonies, feeling I could offer couples something much more personal and flexible. So in 2018, I became self-employed as an Independent Celebrant and now I love designing, writing and performing a range of totally bespoke ceremonies under the auspices of The Ceremony Company. New to the world of self-employment, I already value the benefit of networking and learning from other business people – and I'm keen to do more.
What's a typical day like for you?
Every day has a common theme of dog-walking and keeping in touch with my lovely family! My working day has no regular pattern as referrals come via The Ceremony Company website for the geographical area I cover, which is Yorkshire, the North East and Cumbria. I might be having an initial meeting or a video call with a couple, listening to their dreams for a perfect Wedding Celebration Ceremony, which I will write for them with readings and vows reflecting their style and personalities. I might suggest some ceremony enhancements to make it unique and more personal, such as handfasting, a wine or candle ceremony, or a blessing, and incorporate ideas that they've found from their own research. Later in the day I could be re-drafting a family's baby Naming Ceremony or responding to client feedback and including their own words, if they wish, so a typical day is spent listening to others' ideas, making suggestions, writing and researching. A deeply satisfying day is when it all comes to fruition and I finally perform a bespoke ceremony for a couple, shared with their family and friends!
What's the toughest part of your job?
Although I have the company of my artist husband and our rescue dogs, working at home can be quite isolating and I miss the opportunity of having a team around me, which is why I appreciate the opportunity to meet with other business people.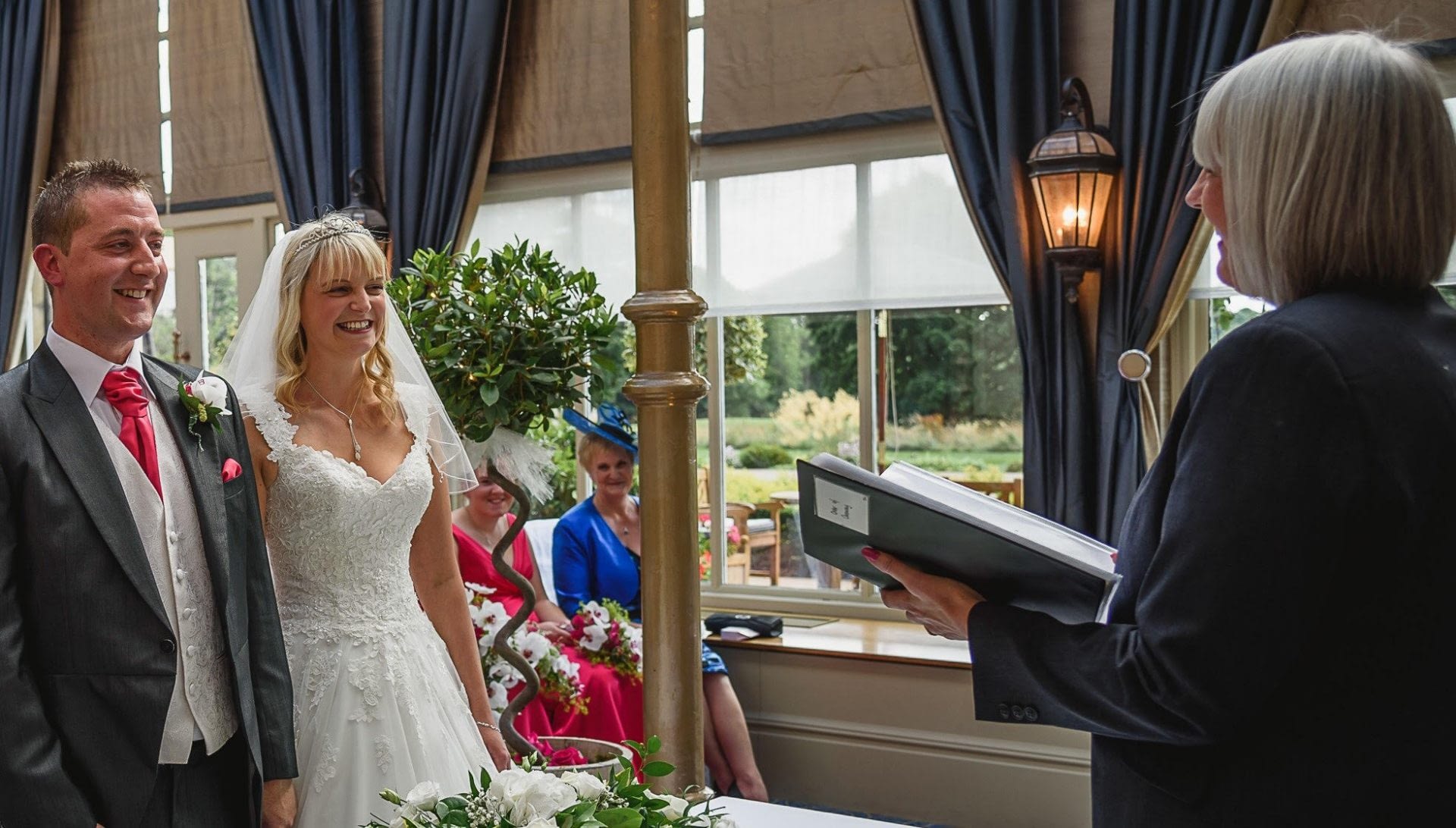 And the best part?
The best part is meeting fascinating new people, getting to know clients over months leading up to their special day and learning about their personal love stories. I relish the variety of ceremony styles and settings (I'm really looking forward to a wedding booked for next year at a Dales waterfall!), ranging from, for example, an intimate gathering with just a handful of guests staying in a holiday cottages complex, to hundreds of guests in a hotel, barn, tipi or marquee!
What are  your top three business goals for the future?
Firstly, I want to get the role of the Independent Celebrant known in the community.
Secondly, I wish to learn from others about more effective marketing.
And finally, I value collaborative working and believe there are opportunities for me to develop partnerships with businesses in the area connected with hospitality, tourism and event planning. The power of networking!
What's your top marketing or social media tip?
Enlist the support of family and friends to regularly search on Google for the business area you're in and click on your website to nudge it up the listings, so it comes up earlier in – or on the front page of – search results.
How can people find out more about what you do?
I've tried to give a taster here, but The Ceremony Company website has lots more information.