With roots in Kent, Kim Stanford has happily settled in Yorkshire with her family following her first career in London as a PA in the investment banking industry, and stops in Norfolk and the Midlands along the way. Here she talks about her business and role with doTERRA, as well as plans for her own website. 
What's the story behind your business? How did you get started?
When we were planning a family, I always knew my job would not fit around the way I wanted to bring up children – I wanted to be there for them. I found network marketing over 12 years ago and loved the concept, the flexibility and the opportunities. I always fall in love with the product first; that's really important – you need to be passionate and have huge belief in what you are promoting. Fast forward to 2014 and I was searching for natural products to benefit my health. I joined a well-known Aloe Vera company and loved the effect their products had on my health. Then about three years ago I had been watching an amazing 'Mumtrepreneur' on business improvement webinars for about six months, and I decided to order some of the essential oils mentioned to add to my growing collection. I ended up chatting via Skype to my now mentor and upline in the US. She is a rockstar in the business and regularly speaks to huge audiences around the world at industry events: I feel very lucky to have her support and wisdom – it was the best move I have ever made.
doTerra is the largest and most respected essential oils company

in the world, with over 6.5 million people benefitting from a wholesale account. I signed up as a wholesale customer with a kit of oils but when they arrived, I was blown away by their quality and knew I wanted to share the message of the products and the company
so

I decided to launch my new business with doTERRA. Our products cover such a wide spectrum of ailments and conditions: You will often hear me say, "I have an oil for that!". We have the most amazing support network with free training and a wealth of essential oils information available to everyone online, right from the basics of which each oil can be used for what through to complex scientific research – so whatever level you are at you have all the information you desire at your fingertips.
What's a typical day like for you?
A typical day is firstly using the oils myself – I am my own best customer and advocate for the products! Before I leave the house, I probably use in excess of 20 of our products – for hair, skin, emotional oils, immunity support, cleansing… I am always diffusing oils somewhere in the house! My work day really begins after the school run, and I fit most of my activity in during the time my son Jack is at school. My diary is all colour coded – I like to time block to ensure I achieve the things I need to in the short time I have. I have a large team who are spread far and wide across the UK, but also around the globe, and I book in update calls with them as required. I run regular workshops to educate about our essential oils and how you can use them every day in your normal routine for health and wellbeing for the whole family, replacing many of the regular high street products to eliminate toxins and chemicals.  The essential oils become your first aid kit. I love how they empower families to have their own on-hand remedies for nearly every common condition. These workshops currently take place in Richmond, Barnard Castle and Darlington, but I do go further afield as and when required. I also attend regular networking events across the region. I find these are a great support, and I have forged some great connections.
Once a week we have team calls where everyone can get together and share their wins for the week and discuss current promotions and new products. We also have regular meet-ups, usually at company events – just last month I flew to Sicily for a leaders' event, and our next open event is at the end of this month in Milton Keynes.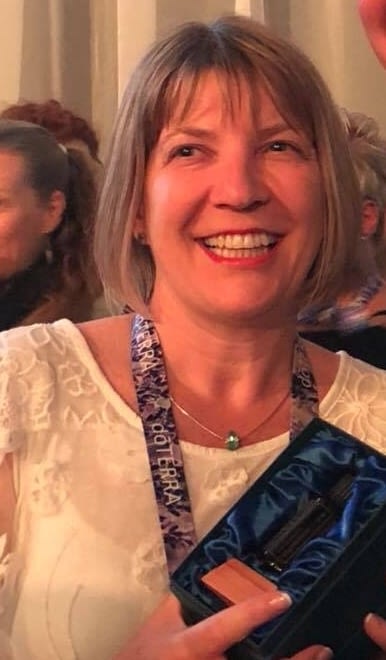 A lot of my days are taken up following up leads and continuing to serve my customers. It is really important to offer the best ongoing service to anyone who has purchased oils, providing them with the knowledge to make sure they get the maximum benefit from their products. There's always a new monthly incentive and promotion, and our range of oils is huge so education is ongoing. Happy customers equal happy sharers – and word of mouth promotion is priceless.
What's the toughest part of your job?
Keeping up with everything in real time! My team around the world is now of a size where I need to automate more to ensure I keep on top of everything. Alongside my generic doTERRA website, I am in the process of creating my own website to service my customers and to ensure communication is more streamlined. This will never take away from the value of face-to-face interaction though, where, with such a scent-driven product, it's important to get in front of people so we can touch and feel and use the products together.
And the best part?
With doTERRA, the opportunities are endless and I never seem to run out of new ideas and ways to get our message out there. It's exciting and rewarding. Our products are beautiful and very effective, and I love the feedback and the amazing testimonials I receive. It is wonderful to know I am helping people find natural solutions for their health, and often for issues they have struggled with for a very long time. Once they find doTERRA essential oils, they find natural and effective solutions.
What are your top three business goals for the next 12 months?
To continue to lead and educate my empowered 'tribe' (mainly women, but we do have men too!), who are finding solutions – not only for their health but for their finances and freedom, too. To become a better leader and therefore grow my business to the next level. My aim is to be a Diamond Leader by summer next year – that's two ranks above where I am now. This will mean I have also helped my team beneath me to increase their ranks and net worth. To be better organised – I need automation! I used to be a very organised PA, but I seem to have lost some of that structure since becoming a mum. It's coming back though, I can see improvements!
What's your top marketing or social media tip?
Do not feel you have to be on everything. Find one or two platforms and become the expert on those – whatever works for you and your business. Be consistent, although that can be tough sometimes. Above all else, be authentic – do not try to be someone else. Be you and your tribe will grow organically and be sustainable.
How can people find out more about what you do?
The best way to get a real look into doTERRA is to attend a free workshop with me. I also offer one-to-one wellbeing consultations, where we talk through your specific lifestyle and needs. You can contact me directly by phone (07793029674) or email (kimstanford22@me.com). Do also visit my Facebook page or have a browse on my doTERRA website.