When Paula thought that her part-time job might be coming to an end a few years ago, she decided to set up her own business based around her passion for crafting. From craft kits to workshops and one-to-one tuition, Paula loves to bring the feel good factor of making something yourself to anyone interested! Read on for more on how she markets her business and is planning for it to grow.
What's the story behind your business? How did you get started?
I started my business a few years ago when it looked as though my part-time job was going to end. I had crafted from a very early age, watching Blue Peter avidly and making all the items when I could – I constantly spent my pocket money on fabric, paper, glue and glitter! When I was growing up there was always a sewing machine out and my mum made a lot of the clothes I wore, so I learned to use a sewing machine very early and, as a teenager, made most of my own clothes so I could have the latest fashions. I decided that if my job was coming to an end I would utilise my passion for, and knowledge of, crafting.
I decided that the way forward was to design and make up craft kits so others could experience the 'feel good' factor from making something for themselves. I thought that if I created a kit with everything in a bag, they could get started straight away. That's how KitBagCrafts was born. I then progressed into running classes and workshops to make some small projects and teach techniques. I also give one-to-one tuition to help people on a more focussed level. I run these sessions from KitBagBarn, my own craft venue next to my home.
What's a typical day like for you?
I don't really have a typical day, although every morning I set my alarm to give me enough time to have a couple of cups of tea in bed to get me going!  If I am preparing for a workshop I will be organising the materials, sorting out KitBagBarn and baking. If I am working on my kits I will be photographing the stages, making up prototypes and writing instructions – so each day brings something different.
What's the toughest part of running your own business? And the best part?
I have found that running my own business comes with the constant awareness and pressure of income or – more importantly – a steady income. If I don't run a workshop or sell a kit then I have no income and that can be very stressful. That is balanced, however, with being able to do things how and when it suits me. I love the flexibility of working from home.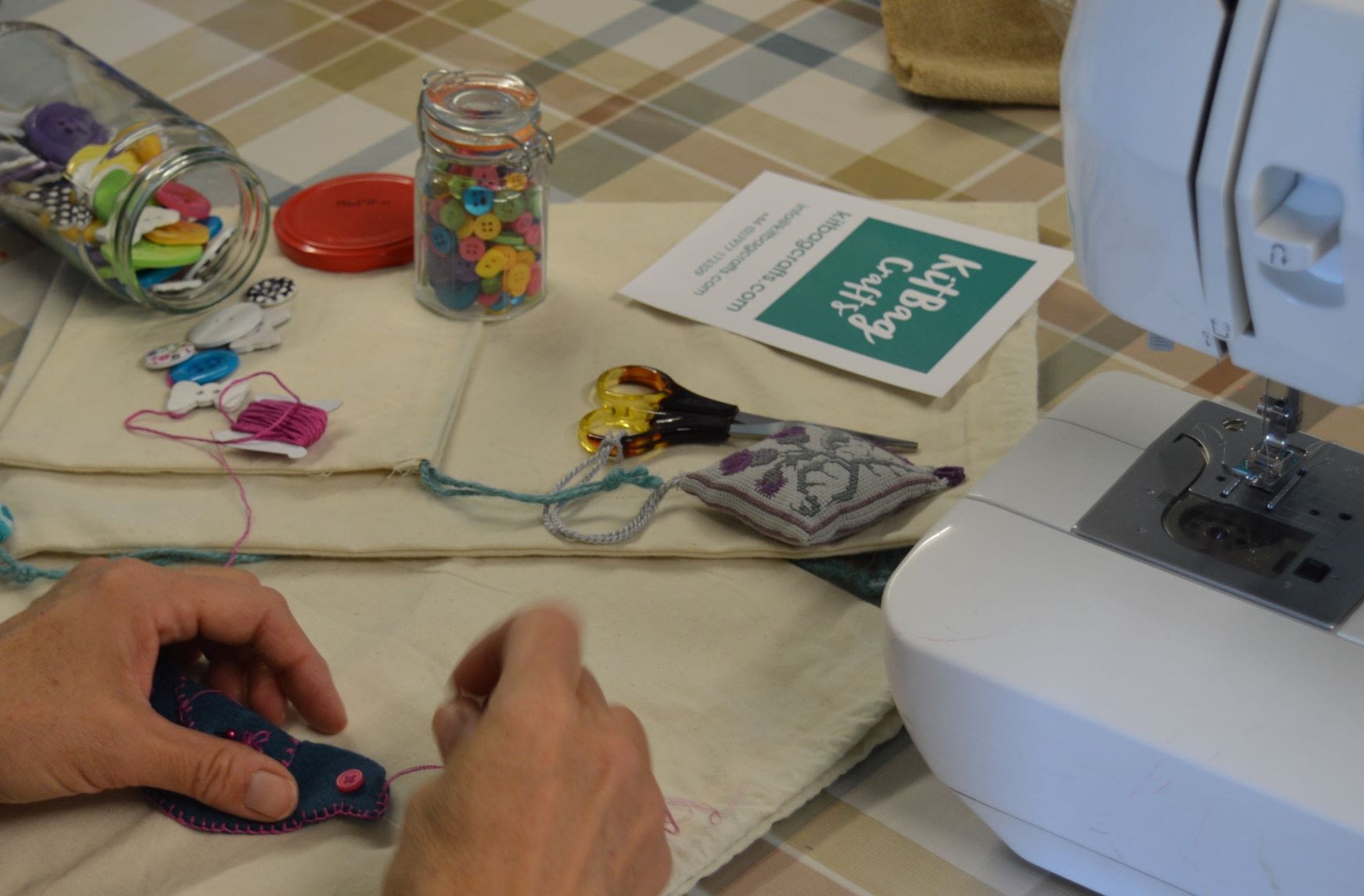 What are your top three business goals for the future?
Often in the handmade arena, small businesses can be perceived as hobbyist and amateurish, so my first goal this year is to give my packaging a more professional look. 
As there is only one of me, I am always looking for ways to scale my business. The big push for me over the next six months is to take some of my teaching online! Translating what I do into an online version is my second goal for KitBagCrafts.
My third, but by far my biggest and most challenging goal is to create some sort of membership business. This requires a lot of thought and planning and is something for the longer term!
What's your top marketing or social media tip?
I know I need to do more with marketing and (especially) using social media in a more consistent way. After faffing around with social media for a couple of years, I have realised that I waste more time working out how to do something or reading about others and their successes. My top tip is to get help from someone who knows. Try to keep some money to the side to invest in someone else's expertise. After all, people come to me and buy my services because they don't know how to do it themselves, so why am I struggling trying to work it all out for myself?
How can people find out more about what you do?
I run a drop in Coffee & Craft session every Wednesday morning (10:00 – 12:00) in Londonderry. It's a great opportunity to pop along and have a look around and a chat. My email is paula@kitbagcrafts.com if you need directions. It would be lovely to see you sometime!