Read on to learn more about how this busy Dales Business Woman splits her time between being a teacher, running a business and looking after her two young children, who are the inspiration behind these new reduced sugar condiments and sauces.
What's the story behind your business? How did you get started?
My mother-in-law and father-in-law founded Raydale Preserves. Originally they just visited local shows and supplied some of our lovely local shops. They worked really hard and year on year the business grew, and when my husband Andrew graduated from university with a degree in business he returned to the Dales and continued to help the business grow. As time went on, they all became busier and I've helped out where I can.
I'm a teacher first so that has meant I've been able to be involved in things like creating our brochures or updating our website. When we had our girls and my work / home balance altered I had more time to help Drew, and everything has grown from there really. Raydale Preserves is going from strength to strength and we've just launched our new reduced sugar range, Fearne and Rosie.
What's a typical day like for you?
It's built around the girls. I get up when they do and routinely check emails. I try to post on social media daily, so I aim to do that first thing, it's usually something I've already prepared and then I'll aim to do a more spontaneous one later.
Drew heads out to work at about 8.30am and we'll be in touch through the day with shops we need to speak to, and bits and bobs we need to follow up. Drew tries to get out to all our shops as often as he can, and I try to help when I can. I think communication is so important and building relationships with our shops is something I love.  It's so nice to be hands-on and be able to change things to suit them, I think we're all a team so if there's anything we can do to help, we will do.
Drew's usually home for dinner and we all eat together, put the girls to bed and then we'll probably spend a big chunk of time replying to emails, packing mail orders or sometimes we need to go back to the kitchen and make up more labels. We're busy but that's a good thing… I think.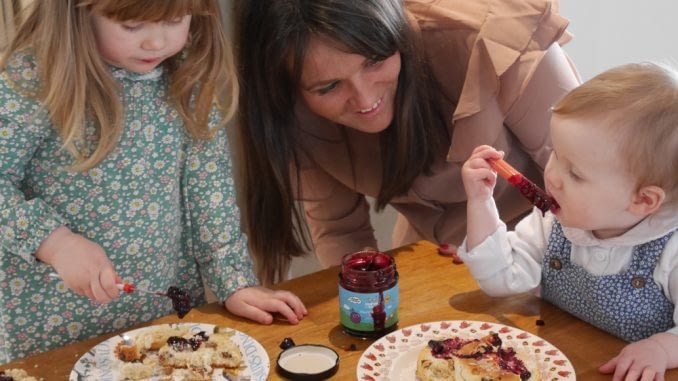 What's the toughest part of running your own business?
It can be really hard to switch off. You can always, always do more, so it can be really difficult to manage that. Work can become addictive. Ultimately, we're working for our children so it's a balancing act to make sure that we also make time to do things as a family. I know that's something I hear lots of my friends with children say.
And the best part?
It's amazing to be able to build work around my children. I'm incredibly lucky that I can work in a way that is more flexible, I still teach part-time and I love it.  On the other days I take the girls to the places they need to go to and work around that wherever I can. Teaching full-time with the commute I have would have meant long days away from home which I don't want to do. The flexibility of working from home and being with my children as they grow up is priceless. I'm very grateful I'm able to do this.
What are your top three business goals?
We are really keen to expand our production. We need to move sites to be able to do this. This will mean we can create more jobs and take on more staff. We've got an exciting (and terrifying!) couple of years coming up!
What's your top marketing or social media tip?
I think communication is key, face-to-face whenever possible. But it's good to just be friendly, reliable, flexible and honest. There are so many amazing businesses out there and the more we communicate and build relationships with these people the better.
Fearne and Rosie are social, follow them on Instagram and Facebook. Or in Rachel's words:  "Smoke signals to Stalling Busk usually lead the way to us – we are at the end of the Earth!"